Discover more from Not Pretty, Not Rich
A newsletter about doing things the hard way.
Over 1,000 subscribers
It's scammer time
Good morning,
This is NP/NR Daily, meant to keep you up to date on what's happening in the markets and economy, and what you can do about it — if anything.
Here's what's happening as of Tuesday morning.
———————————————————
Watch out for scams
Whenever tragedy strikes — be it a pandemic, financial crisis, or natural disaster — the scam artists come wading out of the floodwaters. And you can fully expect that to happen with the coronavirus, too.
In fact, it's already happening. Here are some of the common ways scam artists are trying to take advantage of people during the outbreak:
Robocallers are pitching at-home testing or cures. 
Human callers are doing the same thing.
Retailers are price-gouging by selling toilet paper and hand sanitizer for astronomical prices.
Fake charities are popping up soliciting donations that end up going right into the scammers' pockets.
And in swoop the vultures, too
Scammers aren't the only ones swooping in to try and take advantage of the situation. Be on the lookout, too, for — let's call them vultures, which could be "businesses" or individuals looking to offer you an "opportunity" in this time of crisis. 
It may not necessarily be a sales pitch at first, but you may recognize the types of people and organizations that try to get you to sign up for something that you otherwise may not have. Especially if you're looking for work. 
Here are some things to look out for: 
Multi-level marketing companies — There's never a better time to pitch someone who's desperate with the idea of owning and running their own "business" under an MLM. And though some people may make money with an MLM gig, nobody's going to be buying garbage products in the coming months.
And if they are, they're not going to buy them from you with your weird ".biz" domain name.
Amazon sellers — You may get pitched courses or an idea to start selling on Amazon. Well, sure, you can sell things on Amazon. But everybody's already trying to sell stuff on Amazon, so the market's a bit saturated. And again, people aren't exactly in a "spendy" mood right now.
Plus, Amazon has already cracked down on opportunistic sellers, and will likely continue to.
Instagram coaches — Apparently "coaches" on Instagram are a thing (in the same way an "influencer" is a thing, I suppose), and you can bet that a lot of them are trying to sell you some course or other such nonsense to help you get through the crisis. While I'm some of these people may have a helpful thing to say from time to time, just ignore them. Especially now.
Don't get got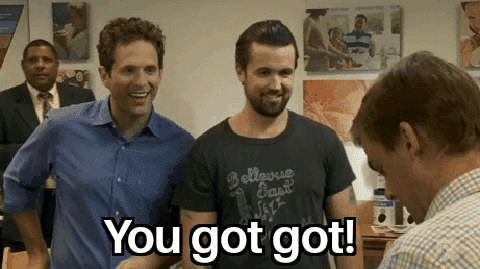 We all want to help those in need, if we're able to. So, we don't want to discourage people from trying to help others with donations or other types of financial assistance. But some good rules of thumb during times like this are to avoid answering calls from numbers you don't recognize, don't respond to stupid emails, and maybe just stay the hell off of social media. I know, it's tough, especially since we're all stuck inside. If you do need to use Facebook or whatever, try and be a little more critical of what you're seeing and reading.
And lastly, the FBI or CDC or whatever government agency is not going to call you. They don't call. They send letters in the mail. So don't get got by one of the oldest scams in the book.
Have a good one,
Sam