Discover more from Not Pretty, Not Rich
A newsletter about doing things the hard way.
Over 1,000 subscribers
Get ready for the 'Tsar Bomba' of Black Fridays
Not Pretty, Not Rich is a newsletter about money, the economy, and how they affect us normal people.
As always, feel free to connect with me through my website, on Twitter, LinkedIn, or send me an email at sammbecker@gmail.com. Also, if you enjoy this newsletter, I'd really appreciate it if you would share or forward it to others.
It's Friday, September 11, 2020.
———————————————————
What's shaping the world this week
Give up all hopes of another stimulus bill. Senate Republicans put forth a "skinny" stimulus package yesterday which failed to pass. The bill was brought up for a vote nearly four months after the House passed its bill, and now it's unlikely that anything will get done until after the election. So, no, you're probably not getting another stimulus check any time soon.
The stock market finally hit a speed bump. The market has been on a tear unlike any we've ever seen, reaching record levels despite an otherwise ugly economic situation. Well, there were finally a couple of down days this week, wiping out some of the gains. 
    Here's the damage as of Thursday afternoon (image from Finviz):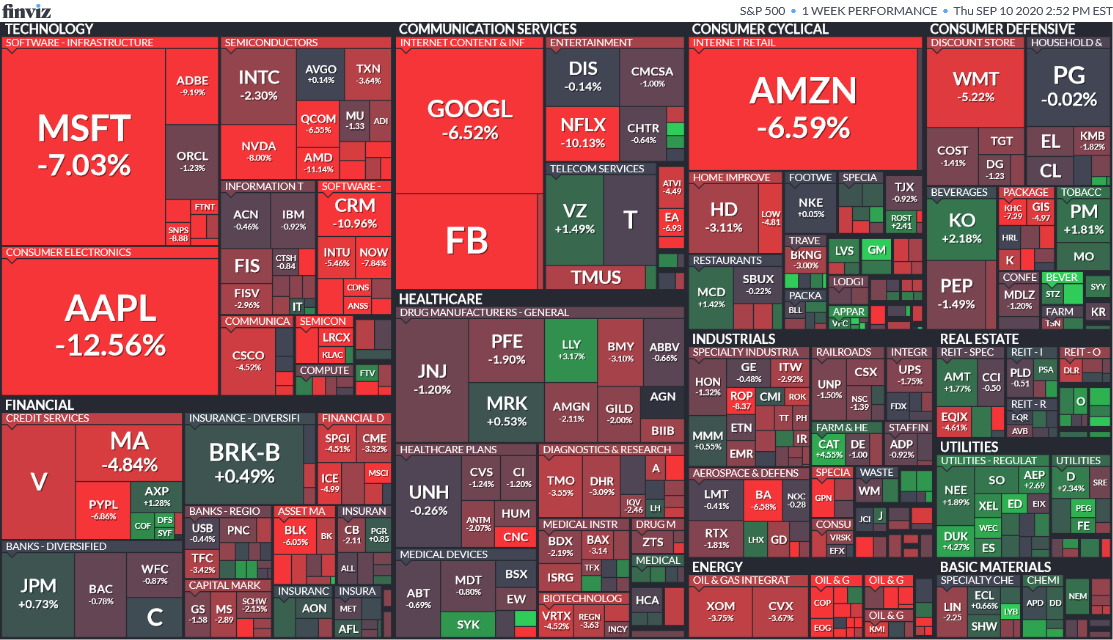 The recovery continues — with some caveats. Last Friday, August's jobs report was released showing that the unemployment rate is down to 8.4%. That reflects a better and faster recovery than almost anyone expected, which is good news. But there are still some troubling trends in the data — for example, the number of "permanently" unemployed continues to rise.
Get ready for the Tsar Bomba of Black Fridays
This year's been pretty much a wash for retailers, but they may end 2020 with a bang.
There's no getting around it: This year was a bust. For you, for me, for AMC Theatres, for everyone. While we mostly have the pandemic to blame for that, there are other things that have worn us collectively down to a nub: The upcoming election, no March Madness, etc. 
Businesses are feeling the crunch, too. Hundreds of thousands (maybe millions) have gone under, closing their doors for good after the pandemic stopped foot traffic cold earlier this year. Those that remain are, by and large, still trying to recover — with the exception of big tech companies.
The retail sector, specifically, was hit very hard by the pandemic. When people are too afraid to come to your store, or forbidden from visiting by law, it can be hard to sell stuff, after all.
But retail sales have bounced back, and the data proves it. Retail sales grew 1.2% in July over June, according to data from the Census Bureau. Compare that to April, when retail sales plunged more than 16%. Now, economy-wide, retail sales have completely rebounded and are growing year-over-year.

So, this shows that people are willing to return to stores and spend money. And now that retailers know that — there's some blood in the water, so to speak — they might want to go big over the next few months trying to make up for all of those lost sales earlier this year.
Which brings us to my hypothesis: Retailers are going to go all-out this year, with Black Friday sales and deals coming fast, furious, and much sooner than we're used to. What does that look like, exactly? It could mean deeper discounts, longer or early "Black Friday" sales, or a host of other promotions that will get customers off their masked keisters and into stores. It could be the Tsar Bomba of Black Fridays.
We've already seen one major retailer jump the gun. Home Depot announced that it was effectively having a two-month-long Black Friday sale, lasting all through November and December. 
A company statement reads:
"For the first time ever, our Black Friday prices will be available throughout the holiday season. Savings will start in early November and last through December, both in-store and on homedepot.com. Say goodbye to one day of frenzied shopping and enjoy Black Friday savings all season long without the stress and crowds."
It's likely that other retailers will follow Home Depot's lead. 
There's another important element to keep in mind here, too: People have money. Well, some do, anyway. While the pandemic kept a good portion of the U.S. population in their homes for at least some period of time over the past six months, people were able to save more money. Those who could do their jobs from home shifted to remote work, saving more of their paychecks as they didn't need to pay to commute or buy lunch. Others, who lost their jobs, may have been the recipients of stimulus checks and augmented unemployment benefits.
The personal savings rate shot up to more than 33% in June, whereas it had previously averaged around 7%:

So, to recap, we have all of the makings for a bombastic holiday shopping season: People are eager to get out of their homes, retailers are incentivized to offer screaming deals on merchandise, and many households have extra money. That's not to say that every retailer is going to give away the farm, but the conditions are there for consumers to take advantage.
The final question, then, is what to do if we are bombarded by a two-month Black Friday blowout? Should you partake? Or continue hoarding your money as we're still living in an economy that boasts an unemployment rate of more than 8%, tens of millions of people are jobless, and lines at food banks stretch for miles.
It'll depend on your personal situation. If you have some money, are employed, and generally don't have any serious worries about how the state of the economy is going to affect your life over the next six months or so, then sure, splurge on a new TV. But if you're one of the millions of people who've seen your furlough turn into a permanent layoff, are relying on an eviction moratorium to avoid getting thrown out of your apartment, or are hiding your car from the repo men? Then try and control that urge to buy a Playstation 5.
Again, this is all a hypothesis, but it isn't too far-fetched to think that 2020 could go out with a bang — at least for retailers.
This week's numbers and links
121℉: The temperature in Los Angeles last Sunday, the highest ever recorded for the area. 
$12.2 billion: The estimated health costs associated with COVID outbreaks stemming from the Sturgis motorcycle rally in South Dakota, per a new study by the IZA Institute of Labor Economics. That number is up for debate, however.
$1.50: The additional amount of money Uber drivers will be paid per-ride if they use battery-electric vehicles.
29: The number of runs the Braves put up against the Marlins the other night, the second-most since 1900. That's like scoring 12 goals in soccer, 15 goals in hockey, or racking up 150 points in football (per my own calculations).
1: The number of NFL players who tested positive for COVID during the latest testing round. Sports seems to have figured it out!
Intuit, the maker of TurboTax, is under investigation for charging people to file their taxes when they should've been able to do it for free.
Citi's Jane Fraser will be the first woman to lead a big bank after the current CEO, Michael Corbat, retires in February.
Until next time,
Sam