Discover more from Not Pretty, Not Rich
A newsletter about doing things the hard way.
Over 1,000 subscribers
This should scare the hell out of you
Not Pretty, Not Rich is a newsletter meant to keep you up to date on what's happening in the world, and how you can position yourself to take advantage. 
As always, feel free to connect with me through my website, on Twitter, LinkedIn, or send me an email at sammbecker@gmail.com. Also, if you enjoy this newsletter, I'd really appreciate it if you would share or forward it to others.
It's Friday, August 21, 2020.
———————————————————
What's shaping the world this week
Here are a few key news items that you should be aware of:
    Oh, and he was arrested by the Postal Service...which evidently has a police force.
It won't matter if you're pretty or rich when the world burns
New climate data has me appropriately sweating about the future. And you should be worried, too.
Where I grew up, wildfires are common. Every summer, without fail, there would be several large wildfires all around my city that would cause the air to be thick with smoke, turn the sky crazy colors, and make it appear as if a handful of small volcanoes erupted in the surrounding countryside, as large plumes of ash would soar upward.
This is the norm for many parts of the American West. And we're seeing that live and in color right now in California, where one group of fires literally doubled in size overnight this week, forcing tens of thousands of people to evacuate, and threatening more than 30,000 structures.
Again, this isn't unusual, and it's actually becoming more common because of climate change.
You may remember a couple of years ago, the Paradise fire burned people alive in their vehicles on the highway. I remember thinking that if that had happened in Washington D.C. or New York City, we would talk about it for years — and it would make it more of an impact on people working in the media and government, who may be able to actually take some action.
Just look at some of this footage, and realize that this could very well happen in your neck of the woods if we continue on our current trajectory:
Skip closer to the end of this one for the more dramatic parts:
For many years, and especially over the past few years, we've more or less completely ignored or written-off the dangers related to climate change and environmental degradation. At some point, of course, we'll have to reckon with it. But it's a can that we seem all too happy to keep kicking down the road.
Well, a recent report came out this week that really stuck with me, and I think it's worth discussing with all of you. It actually doesn't concern fire, either. Just the opposite, in fact.
A new study, published by researchers from Ohio State University, says that Greenland's ice sheet is melting — so fast and severely, in fact, that it's affected the gravitational field above the landmass. The melting ice sheet is currently the single largest contributor to rising sea levels, and if it were to completely melt, the seas would rise roughly 20 feet. And here's the kicker: The melting will continue unabated, and it's too late for us to do anything about it.
From Ian Howat, a co-author of the study, and professor of earth sciences at Ohio State, per a statement:
"Glacier retreat has knocked the dynamics of the whole ice sheet into a constant state of loss….Even if the climate were to stay the same or even get a little colder, the ice sheet would still be losing mass."
In other words, we've passed the point of no return — and we passed that point two decades ago. It's no longer a question of whether this will all happen, it's when. A full meltdown and sea rise of 20 feet could take a really, really long time. Perhaps thousands of years. But we could make some serious headway just within the next several decades.
Scientists are anticipating that sea levels could rise anywhere between one and four feet by 2100, according to the Fourth National Climate Assessment.
That would make life very, very difficult for people in cities like New Orleans, New York, or Miami. Almost every coastal city in the world, really.
Now this study, and the Greenland ice sheet issue at large, is just one of many climate-related problems that are starting to become more pronounced. As the climate changes and average temperatures rise, disease and viral outbreaks are likely to become more common. Crops will fail, resources like fresh water will become more scarce, and wars and conflicts over those resources are likely to flare up.
And don't forget about the mass migration that will take place as people flee places like the Middle East and India, where it'll simply be too hot to live anymore. If you thought the situation in Syria and the multitudes of refugees heading to Europe and the U.S. over the past few years amounted to a crisis, imagine how well the world will handle a mass migration of millions of climate refugees.
Those refugees could include people who live in coastal areas in the U.S., too, who could see their properties destroyed or swamped by storms or hurricanes in the near future. In Louisiana, land is disappearing by the hour. That type of land loss is going to accelerate.
And back to Greenland for a second — this episode of Vice is about 5 years old, but really shows how bad the situation was, and is (the relevant segment is the first half of the video):
I apologize if this is preachy, and if it's something you've heard before. But the problem is that it simply isn't sticking in our heads. We're still pretending everything is okay, and as we're seeing with the situation in Greenland, it's not. It's too late to take preventative measures, and now we need to change for a more difficult future — maybe not for us, but for our children and grandchildren.
To sum it all up, this is scary stuff. It's happening right now, and it's too late to stop it. I want to call on everyone to give a little more thought to their own individual impact, however, and be more mindful going forward. That doesn't mean you need to buy a Nissan Leaf or go vegan, but even I can find small things that I can do that can help the environment, or at least be less destructive.
I'll revisit this in future newsletters, and I'll likely be working on a larger project concerning how we can put our money to work to try and help solve the climate crisis. Technology and innovation may save us yet, but we'll first need to find ways to fund those innovations and convince businesses and individuals to adopt them.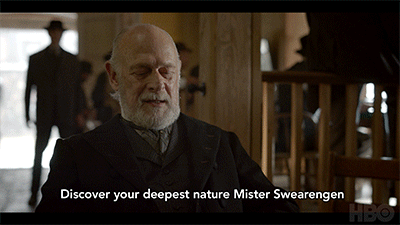 On a final note: If climate change is a topic that interests you, I recommend you subscribe to HEATED, a newsletter dedicated to the subject. 
This week's numbers and links
Walk with the future,
Sam