Discover more from Not Pretty, Not Rich
A newsletter about doing things the hard way.
Over 1,000 subscribers
Why Wall Street thinks Biden is a Better Bet
"Not Pretty, Not Rich" is a newsletter about money, finance, and the economy written by me, Sam Becker. You can connect with me through my website, Twitter, LinkedIn, or send me an email at sammbecker@gmail.com. Also, if you enjoy this newsletter, I'd really appreciate it if you would share or forward it to others.
It's Friday, October 23, 2020.
---
What's shaping the world this week
Bonus: Imagine reading this headline 10 or 15 years ago.
---
Why Wall Street is backing Biden
Wall Street tends to support conservative candidates, but recent reports suggest that this time, their pick is Biden.
The Trump years have been pretty good for Wall Street, to say the least. The administration's agenda, if it has one, is to push through mass deregulation, tax cuts, and growth-at-all costs-type of bills at every turn. And the results have been record-highs on the stock markets, massive corporate earnings, and an explosion of wealth at the upper end of the spectrum.
Here's a look at the S&P 500 since inauguration day. Pandemic notwithstanding, it's clearly been a bonanza for investors:

Despite that, Wall Street — and yes, I'm referring to all of it as one entity for simplicity's sake — is signaling that Biden, not Trump, is likely better for the economy going forward. Here is a sampling:
Even the general public seems to have soured, to some degree, on Trump's touted economic strength. A recent poll from the Financial Times shows that a majority of Americans now believe the president's economic policies are more harmful than helpful: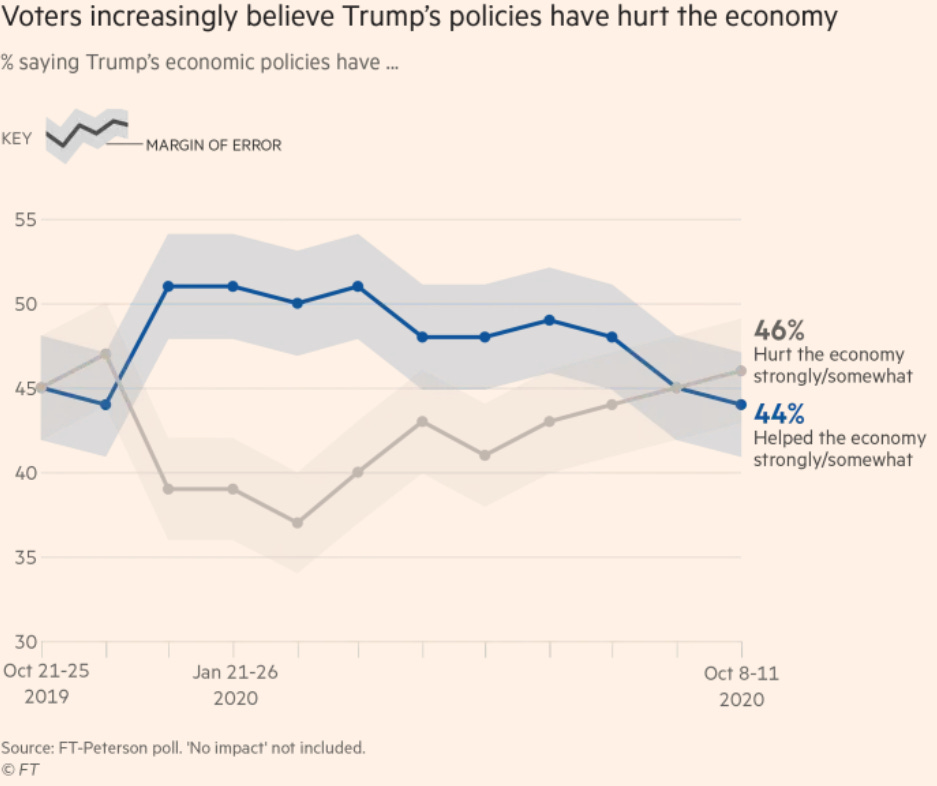 This brings us to our central question: Why is Wall Street supporting (openly or at least tangentially) Joe Biden, a Democrat that would likely look to increase financial regulations, repeal or tinker with recent tax cuts, beef up environmental rules that could cut into corporate profits, and throw his support behind worker-friendly laws, like increasing the federal minimum wage?
A simple answer is that he's not Trump, who has been a wildcard, to say the least. Sure, Trump has been a boon for Wall Street, but he's also an agent of chaos. Biden is predictable, a known quantity, and in all likelihood, isn't going to declare trade wars on a whim, publicly attack individual companies, or purposefully stymie valuable public resources, like the Postal Service.
So it's a sense of certainty — or a higher degree of certainty, at least — that's a big motivator here. Certainty calms the markets, gives businesses and workers a sense of continuation, and an expectation that we won't be blindsided by a surprise change in economic policy on any given day.
And we can't overlook the fact that a Biden presidency drastically increases the chances that substantial stimulus measures will be deployed to jump-start the post-pandemic economy. Republicans will push back, as they did during the Great Recession, but Biden is going to be more willing to throw (additional) huge amounts of money into the economy to get things going again.
*A final note on this: I've been discussing politics a lot lately in this newsletter, which is not really my intent. But what happens in the election and afterward will have a huge effect on the financial world, and our personal finances, too — that's what's driving my coverage of it.
That's all to say that I don't want or intend for this newsletter to become overly political, but there is a large crossover in the Venn diagram of politics and money, and it feels like it'd be a disservice to ignore it.
---
Support NPNR's friends and partners
---
What people worry about when they don't have anything to worry about
A story published by The Atlantic caught my eye, as it really speaks to the monstrous divide between the haves and the have-nots in the U.S.
This story, "The Mad, Mad World of Niche Sports Among Ivy League–Obsessed Parents," is good, written by a talented writer, and you should read it.
But man, did it bother me. And if you take the time to read it, you'll understand why. This isn't an essay, and I don't have a deep critique or thesis about this, but it did get me thinking.
In short, the story centers around how, in some upper-class circles and neighborhoods, kids are obsessively pushed toward niche sports (like squash) at the expense of nearly everything else. And it's not even that these kids need scholarships. Here's an excerpt:
A story published last fall by The Daily Princetonian found that the Gold Coast of Connecticut pumps more athletic recruits into Ivy League schools than any other region in the nation. Kids' sports look a little different here—as they do in upscale neighborhoods across America. Backyards feature batting cages, pitching tunnels, fencing pistes, Olympic-size hockey rinks complete with floodlights and generators. Hotly debated zoning-board topics include building codes for at-home squash courts and storm-drainage plans to mitigate runoff from private ice rinks. Whereas the Hoop Dreamers of the Chicago projects pursued sports as a path out of poverty and hardship, the kids of Fairfield County aren't gunning for the scholarship money. It's more about status maintenance, by any means necessary.
In other words, it's all about the visuals. These are privileged kids who are doing everything they can to get into Ivy League schools — not because those Ivy League degrees will equip them to go out and better the world or start businesses or whatever, but simply because their parents want to be able to say their kids go to Ivy League schools.
Further:
Or, as the Darien parent told me, they're using athletics to escape "the penalty that comes from being from an advantaged zip code." She continued: "Being who you are is not enough. It might be enough in Kansas. But not here."
Some of these people are even developing a sense of victimization by having anything and everything — you know, a "penalty."
Obviously, you can see why this story rubbed me the wrong way. But I'm glad that I read it, as it's good to get some perspective from all walks of life. Even if most of us are dealing with a pandemic and recession, squash comes first for some families.
And the thing is, I don't actually blame these parents, either. They're simply doing what they think is right, which is trying to create opportunities for their children. I'd probably do the same thing — many of us would.
I guess it's a good thing to remember that while most people on the planet are trying to figure out how to pay rent, buy groceries, or just find some clean drinking water, others are busy figuring out a remedy for the "malicious refereeing" they feel is being perpetrated against their children.
That's an enviable position. Should I or any of you find ourselves in a similar pickle, let's do our best to try to keep things in perspective, and realize how fortunate we are.
---
Numbers, links, and things to think about
Stay gold!
Sam